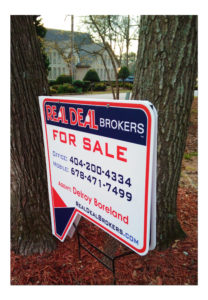 REAL DEAL BROKERS is a branded real estate agency service that connects sellers and buyers in the real estate marketplace. We bring to you the Best Real Estate Agents in the metro Atlanta area, and cities across the entire state of Georgia. Cities such as Conyers, Duluth, Dunwoody, Marietta, Decatur, Alpharetta, Roswell, College Park, Covington and the Greater Atlanta Suburbs. All this under an exclusive sellers agency. Please call us at (404) 200-4334 to negotiate a commission.
We boast close to twenty years' experience and is one of the few realty companies in Georgia with an in-house team of real estate attorneys to conveniently handle your closings. Our agency will design a marketing plan according to the type and condition of your property. Your property is placed FOR SALE in several multiple listing services as well as numerous public online marketing portals where it will appear along with the latest current listings of available homes for sale in Atlanta, Georgia and other metro communities. Additionally, your home may be placed in magazines, billboards, mass media, and in internet ads in the view on home shoppers nationwide and even internationally to ensure top dollar returns.  You pay us nothing until your home sells.
* For the exclusive seller, we offer private showings as well as confidential seller identity protection.
** If you have suffered the death of a spouse and have certain special mitigating circumstance, we charge 1% commission.